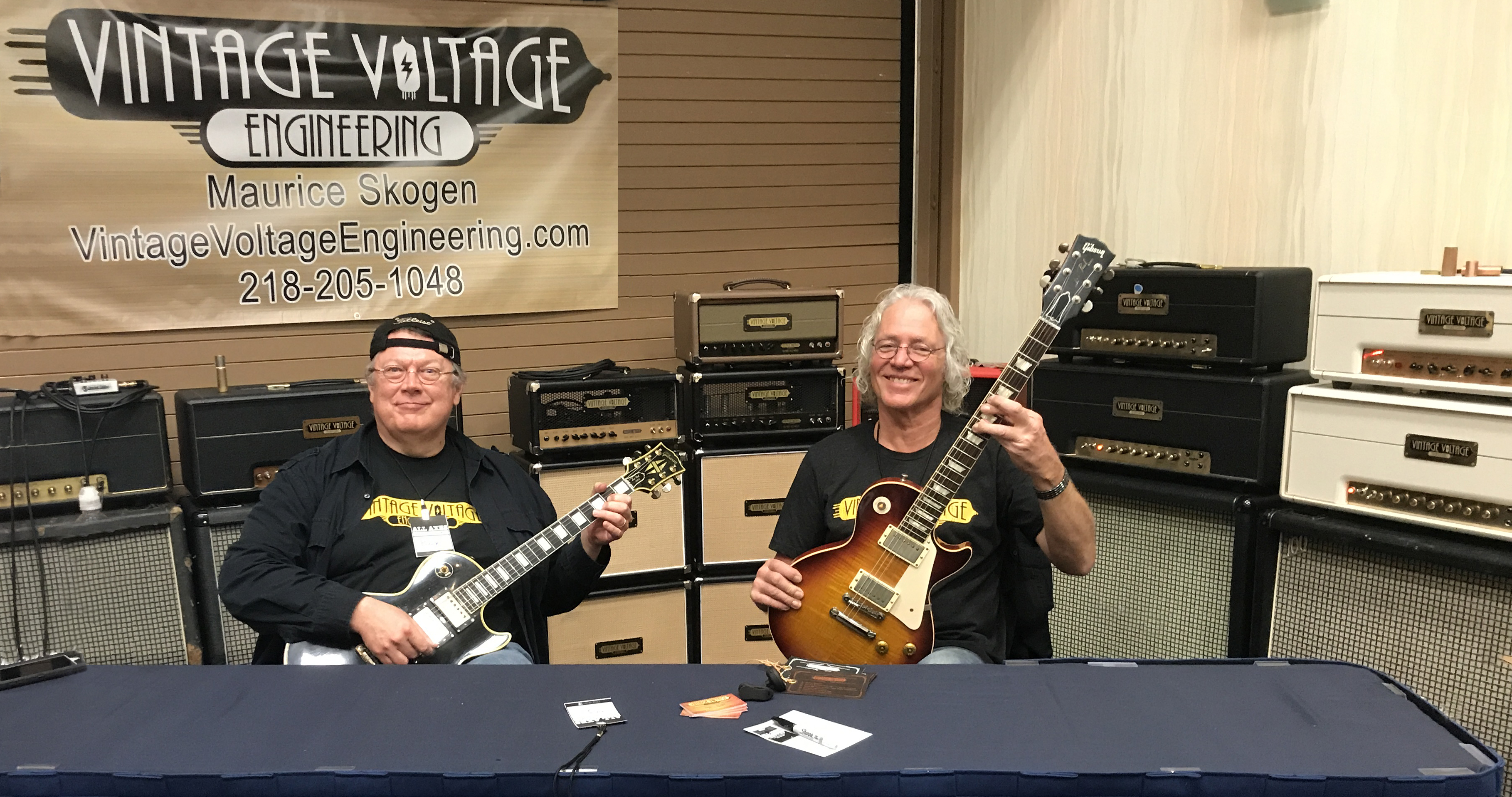 The Lil' Nuke
This is a New prototype amp that combines some of my circuit ideas into compact, easy to carry combo using a 12" speaker. Like all of the amps I build, it is a 50watt chassis that can be re-tubed and re-biased to play at 16watts also. the tubes I have in it for this demo are 6V6's and biased to 24 watts. The guitar controls are very usable, and the pick dynamics are Awesome!
Buck plays an Aluminum Telecaster into the prototype Lil' Nuke amp.
Maurice Skogen
I took Bucks 1976 Transformers from his old Marshall Super Lead 100 MV and built him a Black Flag Plexi 100
Kenny Rardin
Rardin Guitar Specialties, St. Paul, Minnesota
Wow! Wow! You really nailed it this time, Mo! Very tight low-end! Really cool! I want one! So I built him a Signature 50 watt Black Flag!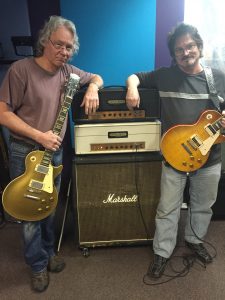 Paul (Buck) Rassusen
I called Buck as I was finishing the Prototype of the first Mo-Wreck, I couldn't believe what I was hearing, It took my Breath away, knowing Buck for the past 40 years and having played in bands with him, I knew he would give me his honest opinion ! I took it to his Recording Studio and we plugged it in...two notes and there was this Mile wide grin on his face, Ive got to have one, this one! I'll build you one Buck, you just did, this one !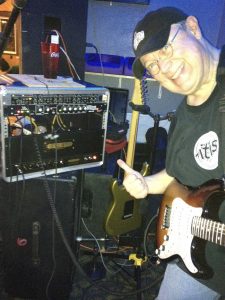 Rob Lange
Rob liked the first Mo-Bass Amplifier I built for him so much, that he ordered a second one!!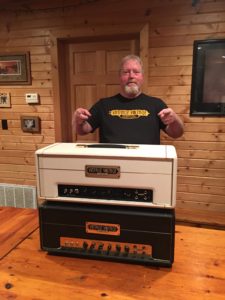 Tim Murphy, Burbank, California
Hey Maurice,
Here's Me with my new amp in my studio, I haven't played another amp since I got it, the response has been incredible !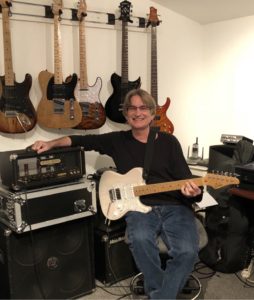 Jeff Swenson
Guitar Builders need an Amplifier that will faithfully deliver the naked nuances, dynamics, and frequency response of each new Instrument that they build,
In my opinion, Mo, at VVE, deserves a higher rating than a mere "Excellent". I would rate his craftsmanship more towards the "Stupendously Splendiferous" range of toneful wonderfulness. This man puts his whole heart, soul and forty years worth of musical mojo into everything he does. His amps are nothing short of engineering marvels. I don't know how he does it or what kind of special sauce he sprinkles over them, but the Mo Wreck 16/60 I own has the coolest freaking tone EVER! Do yourself a favor and have him build you one ASAP!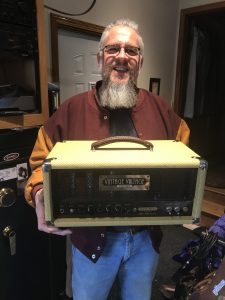 Greg Goerdt
A "Lil' Nuke" goes out the door !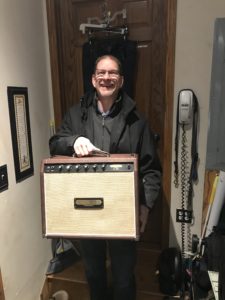 Marc Blanch, Prior Lake, Minnesota
My new amp rig has arrived and it sounds Sweet !! Thanks for building this for me Maurice !! One of your modded Mo-Plex amps is next on my list !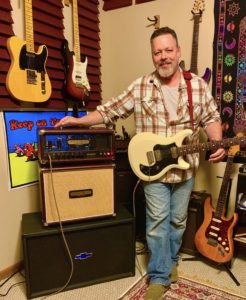 Nate Lupi, Jazz/Blues Guitarist, Massillon, Ohio
Maurice ! The "Little Nuke" combo amp you built me is Amazing ! the Tone is Off the Chart ! here is Nate with his Mo-Wreck he has been playing the past 4 years and his new combo !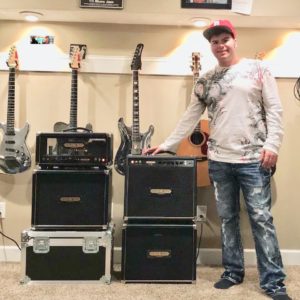 Rod Hadland, Fargo, North Dakota
Thanks for building me a Great sounding amp Maurice ! your Mo-Plex is a Kick Ass version of a hot/modded British amp from the '60s !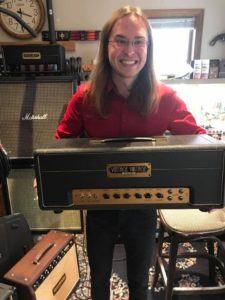 Rob Lange, Devils Lake, North Dakota
Rob just ordered a second Mo-Bass amp, this is my take on the classic Marshall Plexi: Super Bass 100 from 1969, this is what he said about the first one I built him last year: The Mo-Bass is Killer Maurice, I could not be happier with it as I have said many times, Very dynamic and responsive with plenty of headroom at higher volumes and sounds Great at lower volumes too ! All Tube Goodness, I am definitely sold on your Craftsmanship!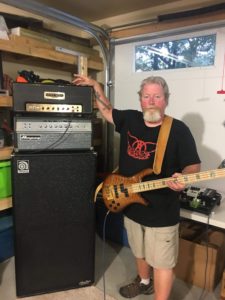 Maurice Skogen, Fergus Falls, Minnesota
I am out playing professionally using the gear I build: a High Octane Mo-Plex 50 watt and a 24 watt Lil' Nuke, they play Clean, Mean and Nasty !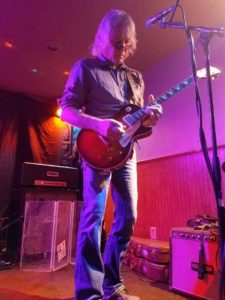 Gregg Buran
Gregg's group "57 Chevy" was playing at an outdoor festival that I was doing Audio Production for, I asked him to play one of my Mo-Wreck amplifiers during his performance, he agreed. When they had finished Greg was very interested in more info on the amp he had just used, he told me that it responded to his playing and sounded just as I had described it. I gave him a card and they left. three days later he called and told me his wife had told him to call me and have me build him one, I can't get the sound of it out of my Head! the amp was all he had talked about for the past couple days and he was driving her Nuts! that was 4 years ago and he still feels the same way about his Mo-Wreck !!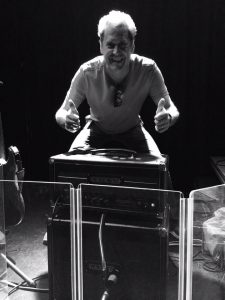 Mike Pfaff 
I Love vacuum tubes! Great tone and music are my lifelong passion. I recently built a tube amplifier to be the back-up for my 1983 Boogie MK II C+ and somehow it went over the top! So here we are today, in 2012, starting an actual, legitimate amplifier company that custom builds amps by hand, one at a time, made in America! These amps are not for everyone -they are for a few "good" guitarists who "get it;" guitarists who understand the vision and concept of "less is more."  In the case of Vintage Voltage Engineering, I emphasize the importance of the "human feeling factor" in the design.  Vintage Voltage amps bring that "magic" out of a guitarist, with the amplifier being an instrument as much as the guitar is. I have never played an amp this articulate and expressive -it is "alive." Your guitar has never sounded like this before!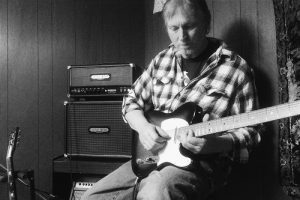 Ernie Schmitt
Hey Mo, I saw Kenny playing through one of your Vintage Voltage Tube Amplifiers, can you build me one?
I have been gigging with my 'Wreck 16/60 for several months. It took me a little time to get used to the dynamics. It is so touch sensitive, you can make it whisper or scream just by varying your string attack. I had Mo put in the 3 voicing switch, and the 2 way bright switch, which really can switch up the soul of this tone machine. I love that I can play it thru my 4x12 cab, 2x12 cab or single 12 cabinet, using the impedance switch to go 4, 8, or 16 ohms. And my wife appreciates the switchable master volume so I can dial in the "growl" while practicing at home keeping the volume down.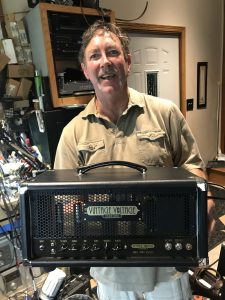 Mike Fauth
This is Mike Fauth my band mate from Sagebrush,  Mo ! if you think the Fiddle Rocks you Gotta hear my Mando-Caster through my new amp! Vail, Colorado will Never be the Same !!! Thanks for a Great Tube Amp Bro !!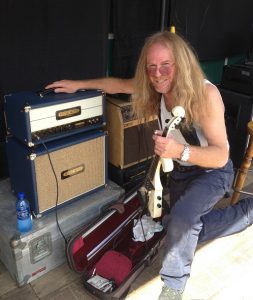 Todd Beiderman
Todd had recently been to the Experience Hendrix Concert in Minneapolis, where he met Billy Cox the Bass Player for Jimi in the Band of Gypsies, while talking to Billy they discussed the gear he used back in 1969, Billy told him to go find a Marshall Super Bass 100 amplifier... two days later Todd was in my shop telling me this very story when I stopped him and said: I have a Marshall Super Bass 100 I just bought last week while I was in Phoenix Arizona !! well can you build me one Mo ?? Ya sure! Todd is now a Tube Tone believer !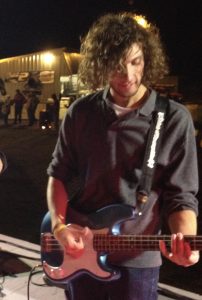 Dan Thornby
I met Dan about six years ago while I was the house Sound Engineer at Zorba'z, a local bar in the Lakes area of Minnesota, when he heard I was building Tube amps he had an interest, but when his band: Hardwood Groove played a benefit concert at Detroit Mountain opening for my band: Sagebrush, he was able to experience me playing guitar through one of my Mo-Wreck 16/60 Tube amplifiers with a pair of the Thiele 1x12' speaker cabinets that I also build. I let him take one home for a couple weeks and he came back and ordered one ! Thanks for believing in my Quest for Tube Tone Dan !!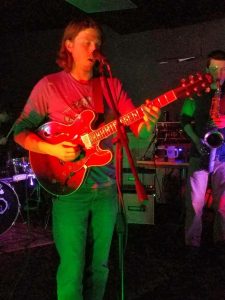 Duane Egeberg
Duane had me build him a Multi-Watt 16/60 Mo-Wreck to go with his new PRS guitar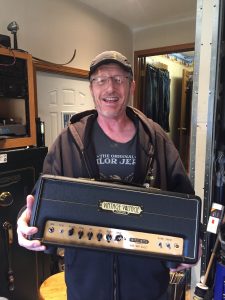 Pastor Paul Logan
Paul asked me to build a two channel amp that he could play an Acoustic guitar and an Bluesy Electric guitar into, with two 12" speakers. It took a while in the R&D department and we got done! He is Very Happy with "the Preacher Twin" we developed!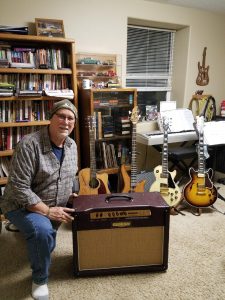 Chris Mitlyng
Chris is the sound guy for my group the "Blue Gritt Band" and plays guitar for his own band "Tempest". he had a vision of his amp and became a student of my electronics instruction. After dozens of design ideas we decided I would Tutor him building his own amp, a combination JCM800 and a Plexi 100 watt, so here is a happy student with his project !!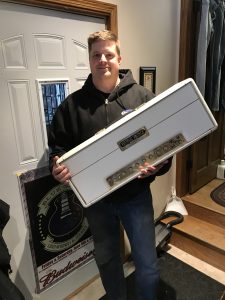 Paul Hermes
I played with Paul 33 years ago, recently he had been following my progress building amplifiers and made the comment: If you made one that goes to 13... I would buy it !! My reply was: I just ordered the parts! He had me build my take on a Mo-Plex 50 watt with Voicing switches. He said it Kicks Ash !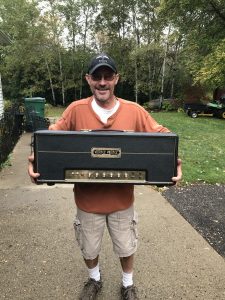 Darren Quam
Guitarist for the band Confusion, I repaired and re-built his Hotrod Deluxe way too many times, so a new Hand wired Tube amp was the Ticket !! you can see the Mo-Wreck head and a 2X12' cabinet behind him that I built also.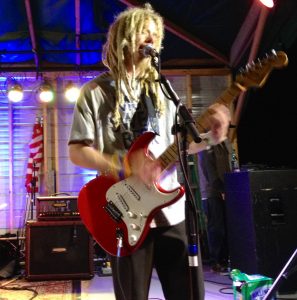 James Buck Berger
I played with Buck in the '90s and when he heard I was building amps he was one of the first to drive to the shop and order one! I built him a little Thiele stack and a Mo-Wreck head.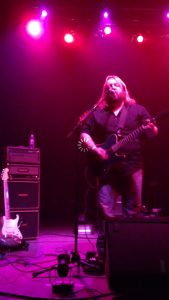 Dewey Hissan
Dewey heard about my shop and drove up from Burnsville, Minnesota to talk about building an amp. We had a similar vision and he chose a Mo-Wreck to round out his collection of Cool Tube amps after playing one, " this amp has that "Something"  my other amps don't have" he told me.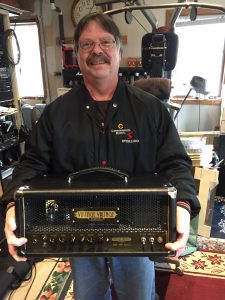 T. J. Jensen
TJ has been one of my clients that wanted more tools for his songwriting toolbox ! He first bought a Mo-Wreck head and matching 2x12" speaker, next he played a Mo-Plex 50 watt head and got that with a Thiele 1x12" speaker cabinet, then another 2x12" speaker and a Mo-Wreck combo amp, followed by Touring grade 3-way concert sound system. He just stopped by today and bought an old 4x12" marshall 1960A speaker cabinet to go with the 50 watt head. TJ is a True Believer in the Quest for the Best !!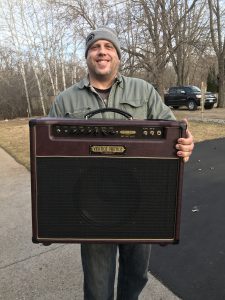 Nate Lupi
Nate is an exciting young Blues Guitarist Ohio, He is one of my Professional players that could have any amp he chooses, I'm very glad to have him as a client and out there it the market using my equipment !! we met through a mutual friend three years ago and it's been a Great relationship for a builder like me ! he said: "Thank you Maurice for such a Robust built amplifier ! Thank you Nate for believing in my passion for building Tone-full Tube amps!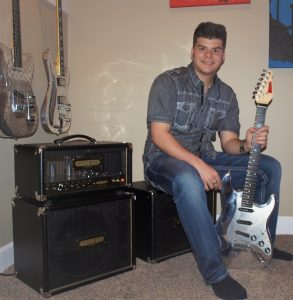 Dean Dalen
Dean had a modded Marshall that never sounded right, so it sat in it's road-case for over 25 years, when he brought it to the shop it was a snap/crackle/pop mess! So instead of undo all the modifications we decided to Totally Gut it. using Only the chassis pan and the original transformers I rebuilt it from the ground up, I built a black flag turret board, replaced all the tube sockets and every electrolytic capacitor. It now sounds like it should, "old school Krang" at it's best !
Paul Buck Rasmussen
Buck in his Studio with his Prototype Mo-Wreck 16/60 and his Mo-Plex 100 watt amp now running 4-6V6 output tubes at 36 watts instead of 4-EL34 tubes at 100 watts, at this lower power level the controls are more useful and it is making recording Fun again !! not to mention Live gigs are are Crazy Cool with nuances that have been missing in other amplifiers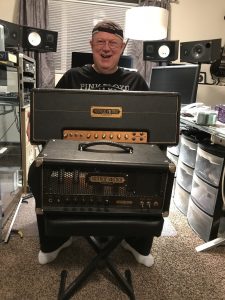 Maurice Skogen
What do I use when I play gigs ? I roll a wet/dry rig using 2 Mo-Wreck heads at 24 watts each and the Marshall amp powers my Talk Box, I just built myself a 50 watt Mo-Plex for the Talk Box so now I can leave the old 1972 Marshall Super Bass 100 at home.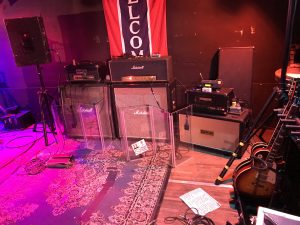 Todd Nelson
After playing various Bass amps over several decades Todd decided he needed an updated rig, so I built him a 4X10 ported cabinet.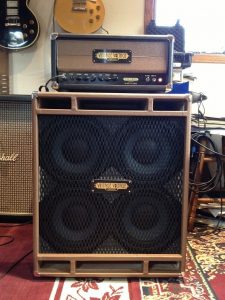 Ben Peasley
Ben had me build him a 1X12' Thiele cabinet covered in Cream Tolex.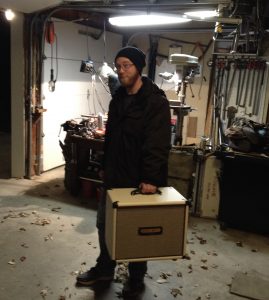 Shane Erickson
Shane was looking for something Different, we talked, we played some amps in the shop, a Tweed Wreck 16/60 goes down the road !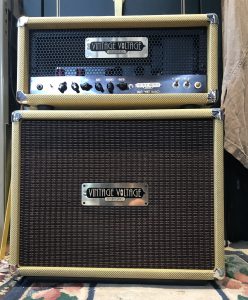 Charlie Hargret: (original guitarist for Blackfoot) Mo, when I first heard you playing it I came backstage and had to check it out, you let me play it for two sets outdoors !! Great tone,  -Awesome!
Jimmy Sexton: (guitarist for Lynyrd Skynyrd and Molly Hatchet) Great amps, Mo! -We had a blast playing them tonight!
Paul (Buck) Rasmussen: (BAM Studios/guitarist/recording engineer) Unreal tone, Mo! I have 25 amps in the back room and none of them sound this good!  I need two of them! One for the studio and one for stage!
Richard Duffney: (sales/Pro-sound Music/guitarist, Colorado Springs, CO) Mo! Killer amps! -So responsive! All you need is a guitar, a cable and one of these little fire-breathing beasts! How soon can I get one?
Mike Bullock: (recording engineer/lighting grip/vocalist)  Sounds fantastic, Mo! I have been looking for this classic tone for years! I want this one right here! I want the proto-type!
Mike Elstead: (bassist/live sound engineer) Sounds freaking great, Mo! Very expressive picking dynamics; huge blues/rock tones; Chicken-pickin' clean tones are awesome too!Great job!
Kevin Schmidt: (Tone Syndicate Music/guitarist) Awesome amp! Smooth and clean with guitar volume down and nasty grind with it cranked, Very cool!
Mike Fauth (Sagebrush Fiddle/Mandolin/Guitar) Mo !! Nothing makes my electric violin sound this expressive and my Mando-Caster rips a new one! Awesome tone Mo ! people freak on how Cool these instruments sound!
Darren Quam ( Confusion Band ) Mo, after I played it there was no going back ! Thanks for helping me get Killer Tone ! I Love my new amp !!
TJ Jensen ( The Town Bastards ) Unbelievable Tone Mo !! I Love my new V.V.E. amp !
Marty Shulte ( Guitar Factory ) Unreal Tone Mo ! the Aluminum Guitars I build Sound Crazy Cool though my new V.V.E. amp !! Thanks !
Mike Pfaff ( Fellow Guitarist ) More sparkle, more snap, more twang....pure tone, slathered in awesome! Thanks, Mo!